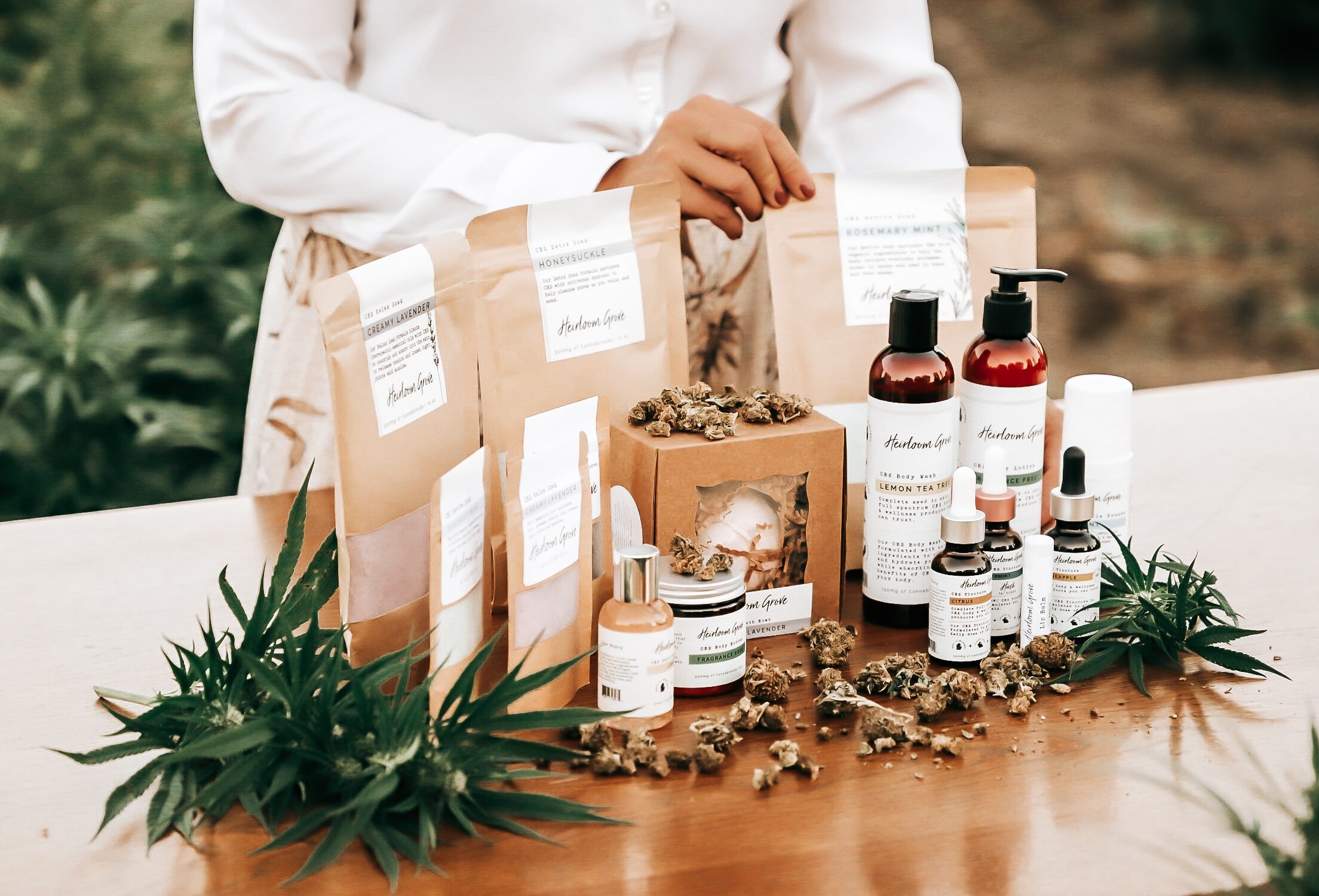 Heirloom Grove's premium CBD skincare and bath products are handcrafted with care, using only the finest natural ingredients.
The entire Heirloom Grove line of products originates from our organic, 3000 acre family farm located in Michigan. From seed to skin, we are pleased to offer a comprehensive line of products which are designed to improve your overall well-being.
Whether you are an individual shopping for premium CBD products, or you are a CBD health, body & wellness products wholesaler looking to expand your catalogue, at Heirloom Grove our knowledgeable owners and experienced staff are here to assist you.
Dedicated to providing our customers with the highest quality natural CBD health and beauty items, Heirloom Grove has earned a reputation for excellence within the hemp & CBD community. Please browse our CBD Store and feel free to email for additional information.
Product Lines

Sell & distribute Heirloom Grove products as a wholesaler
Heirloom Grove CBD is proud to meet the needs of our customers and wholesalers throughout Michigan, the Midwest and the United States. If you're looking to resell or distribute our products, please complete our wholesaler registration form. Once the wholesale application form is submitted, a representative from Heirloom Grove will contact you to complete the setup of your wholesale account.
If you have additional questions, please contact us to learn exactly how our skincare, bath and beauty products made with CBD can improve overall health and wellness.

Subscribe to our newsletter and follow us on social media for exclusive offers & new product announcements.
Safe, Tested CBD Health, Bath and Beauty Products
Utilizing only the best product from each crop, at Heirloom Grove we process our full spectrum CBD and essential oils in our state of the art CBD extraction facility.
All CBD products are tested by objective third party laboratories to ensure that we continue to maintain the highest level of quality control. All of our Beauty, Health and Bath CBD product labels contain QR codes for customer verification of the lab results. This process provides transparency and gives our customers peace of mind in knowing that they are receiving genuine CBD products that are safe and effective.
Contact Heirloom Grove CBD
At Heirloom Grove, we are firmly dedicated to the promotion of and education about the numerous benefits of CBD. Let us show you how we can help improve your overall well-being with our boutique line of CBD Beauty, Bath and Health products.
You may shop our online CBD store or email us at contact@heirloom-grove.com for friendly and knowledgeable advice about which CBD products are right for you.
Contact Us