Today I thought I'd share a post about an antique redo I did on a cabinet I've had on display in my home for many years. I originally bought this antique cabinet from Gray's Furniture about a decade ago, when I just fell in love with the rich red and gold tones that went so nicely with the Tuscan/French country feel I was decorating my home with at the time.
The cabinet has always been one of my favorite pieces of furniture in my home, but I was ready for a new look in my living room (and house overall)…transitioning from the red accents and tuscan style, to more of a vintage/farmhouse style, using softer, neutral colors and comfy, cozy vibes. But… I still loved this cabinet! So, what to do?… I decided to take a weekend afternoon and just refinish it!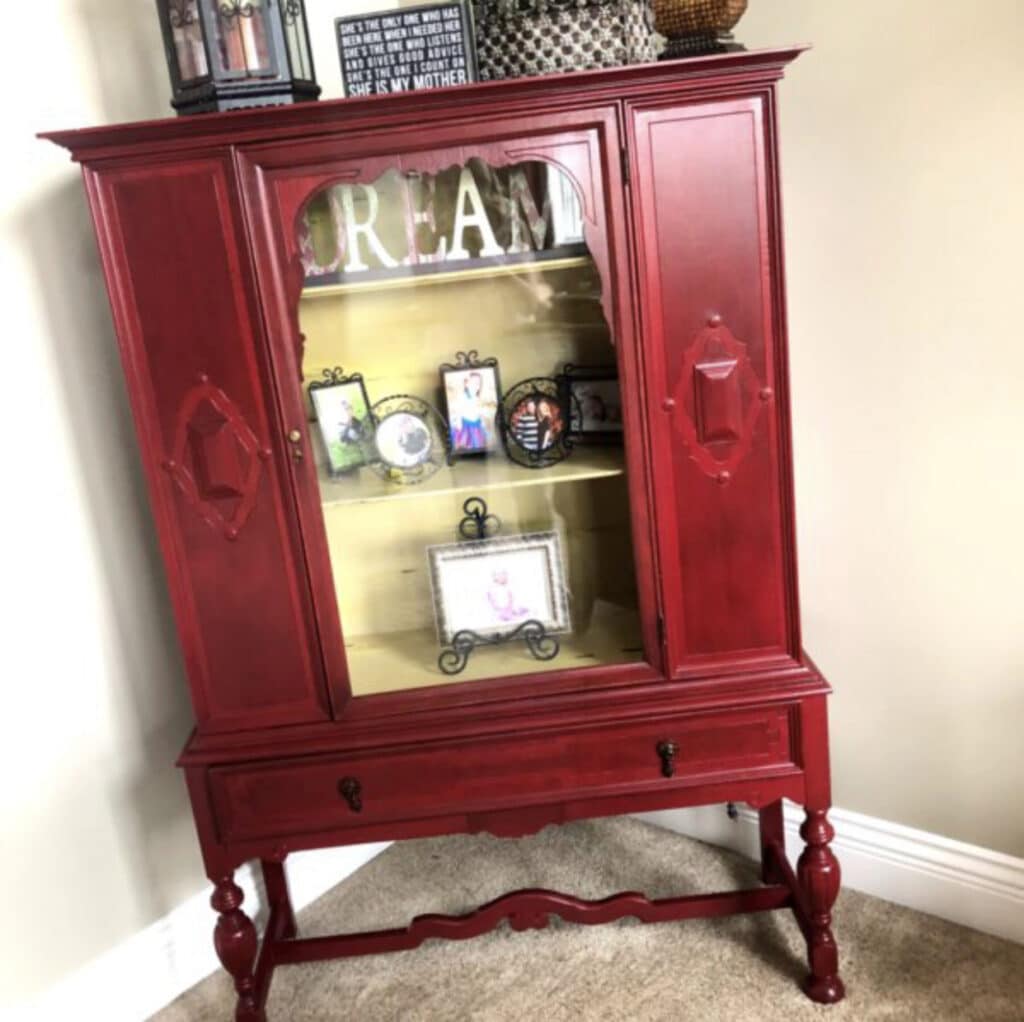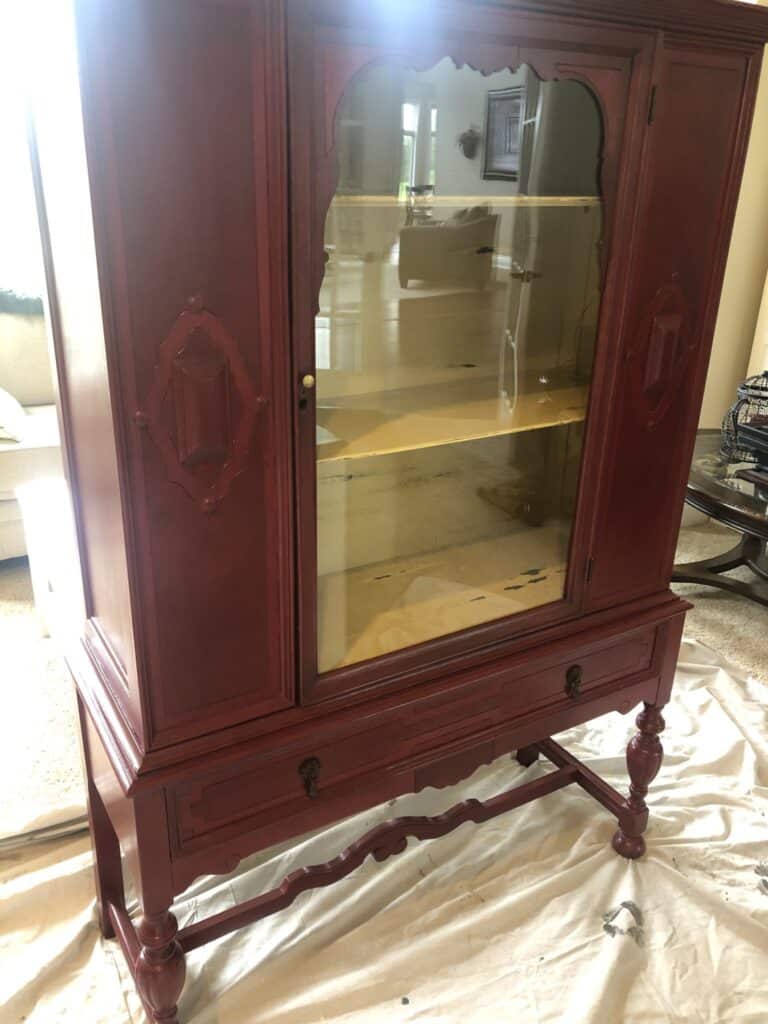 One of the products I swear by is Dixie Belle Chalk Paint….I love this furniture paint line. It makes refinishing furniture so easy, enjoyable, and the end results absolutely gorgeous. I find painting furniture so calming and there's a lot of opportunity to really be creative with the numerous colors, waxes, glazes, and finishes to play with until a piece reaches the desired look you want.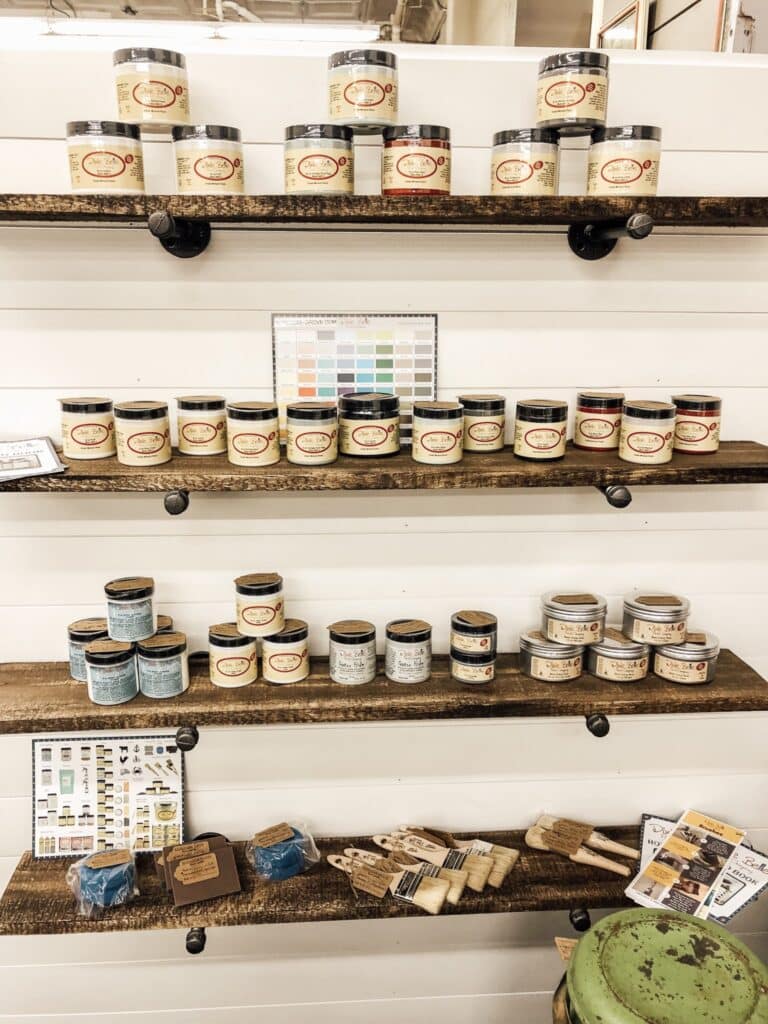 I always start refinishing each piece with Dixie Belle's White Lightning Cleaner – this stuff is great at cleaning years of grime and dirt that can come with these antique pieces. A couple tablespoons of White Lightening in a gallon of water gives a deep cleaning and nice preparation before I paint.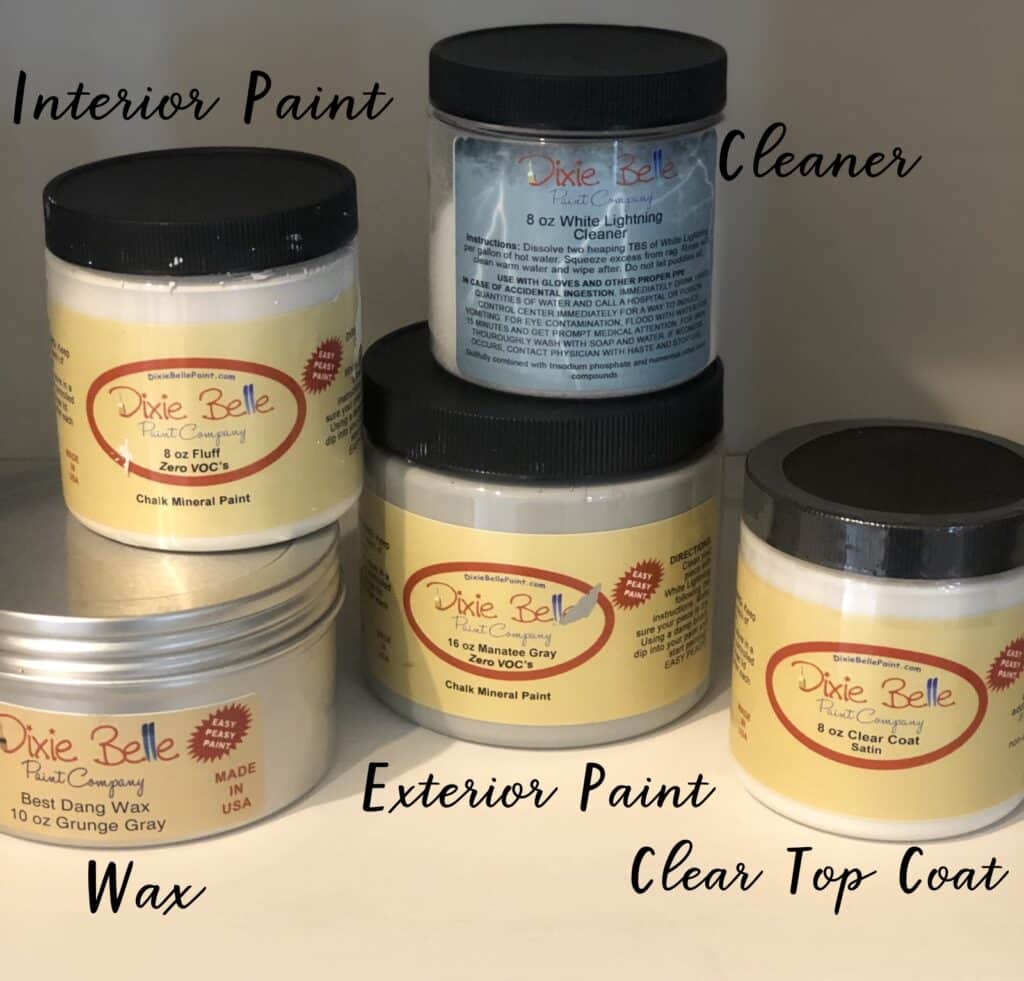 After I let this piece dry, I painted the interior and shelves with the color Fluff – a pretty white paint that really crisped up the interior and added a nice two-tone dimension when paired with the gray exterior.
When I moved to the exterior of the cabinet, I painted 1 coat of Manatee Gray over the entire outside with my Belle Brush and Chip Brush… it took only 1 coat of this light gray finish to cover the dark RED… seriously, great paint with amazing coverage!
The gray finish was a bit lighter than I wanted for the cabinet though, and I also wanted to have more dimension and texture, so I applied Best Dang Wax in Grunge Gray with my Chip Brush, to all of the exterior detailed areas, and to the flat surfaces too…wiping, rubbing, and brushing until I had the desired color and texture I aimed to achieve. I used a spray bottle to wet the brush a little before I dipped it in the wax, as I find it spreads the wax a little more evenly.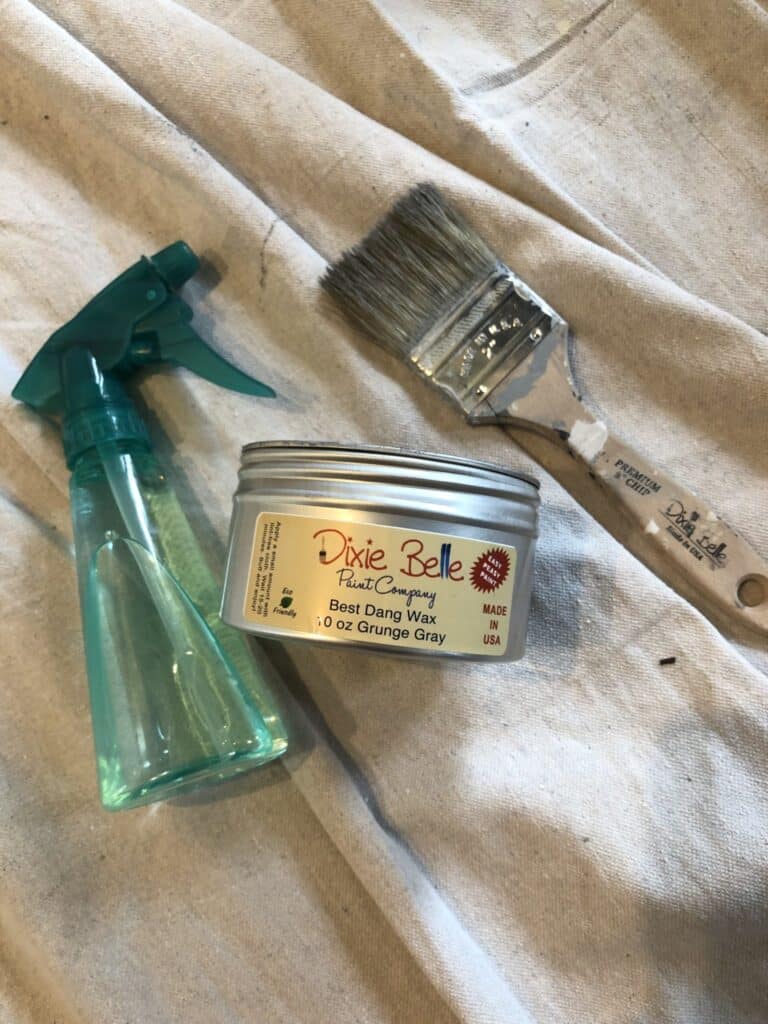 The beautiful thing about this paint is if I don't like how something is coming out, I simply paint over it and try again! The products are water based, so there is no particular "order" of products to use/when…. if you put a top coat on and don't like the finish… then just paint over it and try something else.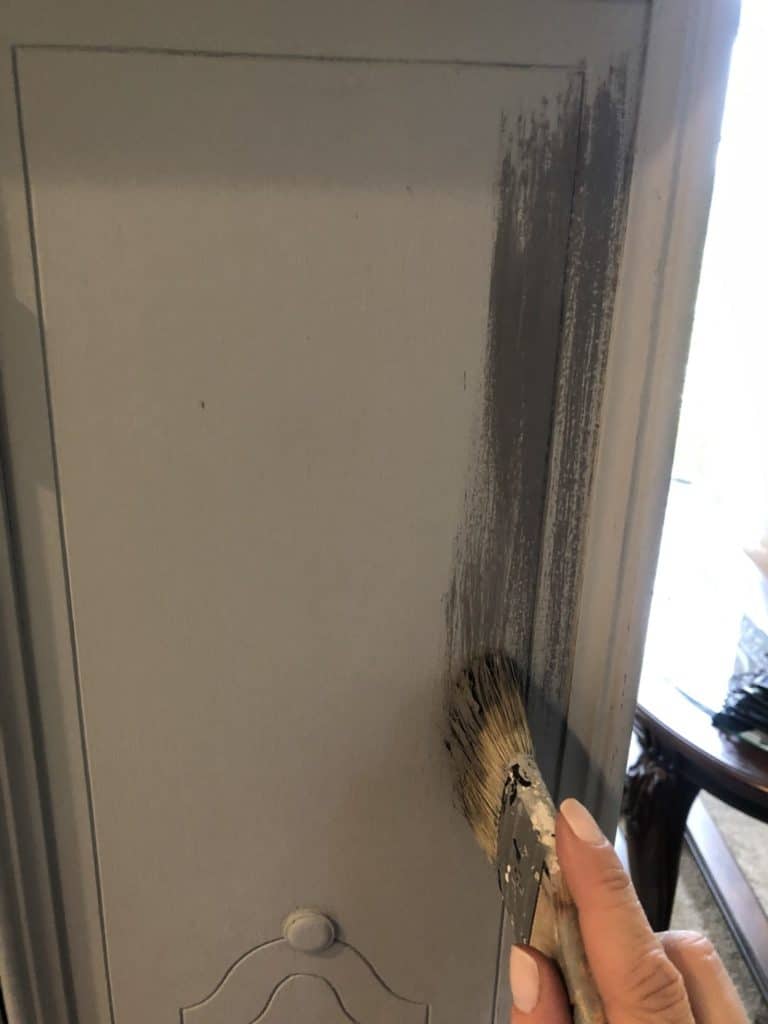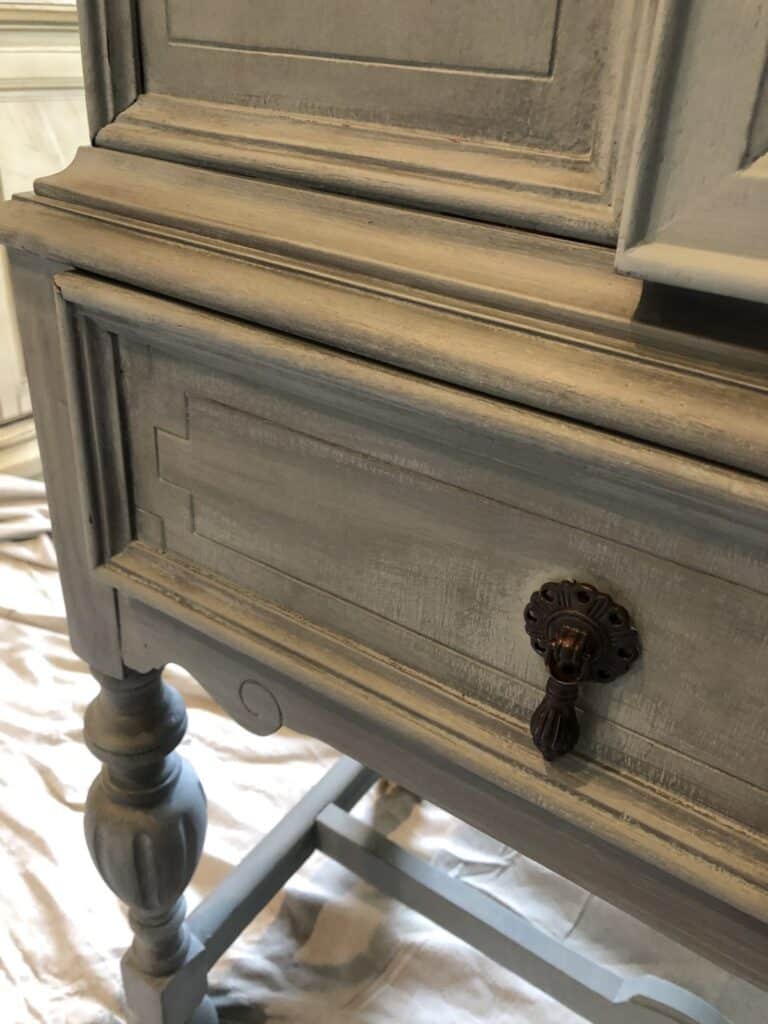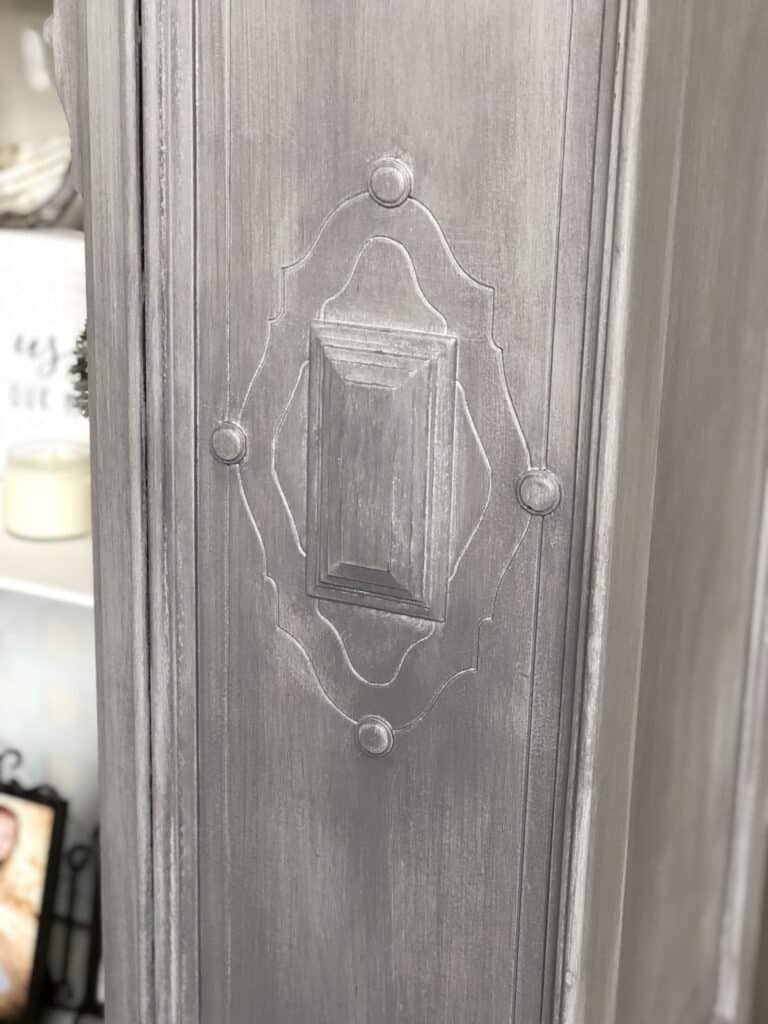 I finished the project by applying 1 coat of Clear Satin Top Coat to seal with a nice satiny finish. You don't need to apply a top coat of any sort with this paint line, but I usually like to add one of the finishing products to complete the look and help for long-term durability.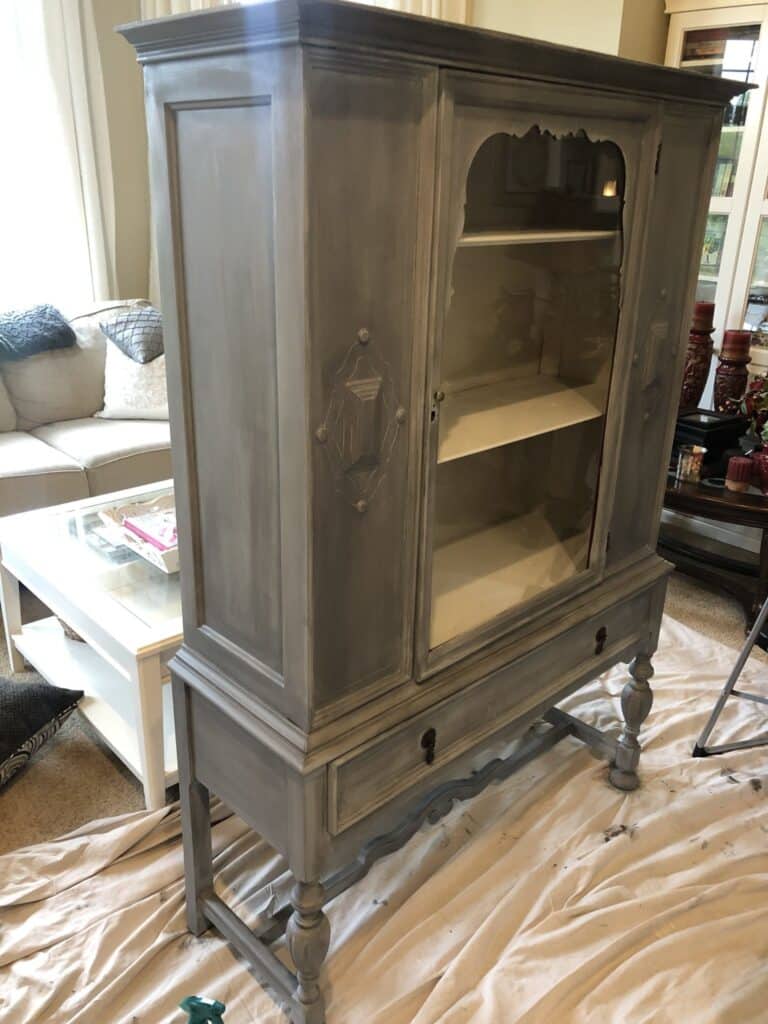 The whole project took about 8 ounces of Manatee Gray paint, 4 ounces of Fluff paint, 4 ounces of Clear Satin Top Coat, and about 4-5 hours of paint time, including dry times. A little of this paint goes a long way in achieving a brand new look for a treasured piece.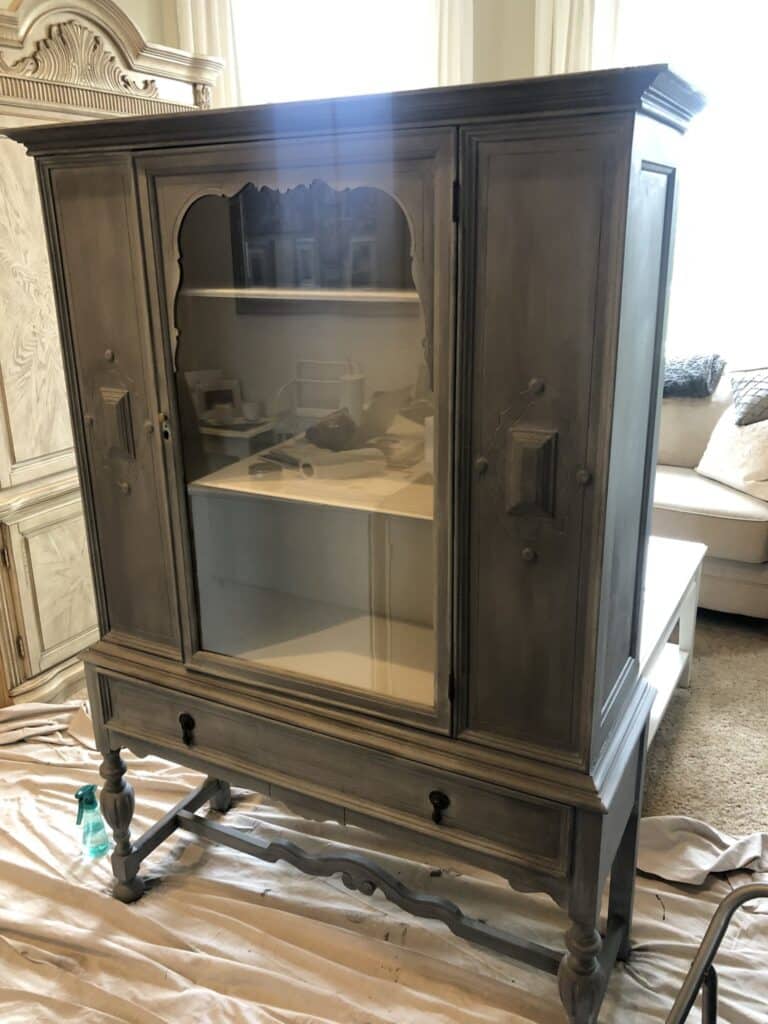 I am really enjoying the new look this redone piece has brought to my living room. It sits in the same exact spot as it was before (future blog post of my remodeled living space coming soon…) but it looks like a completely new addition to the room. I accented with some new decor pieces, and I am really excited for more years of use with this gorgeous piece of furniture (that I think I originally paid less than $400 for!)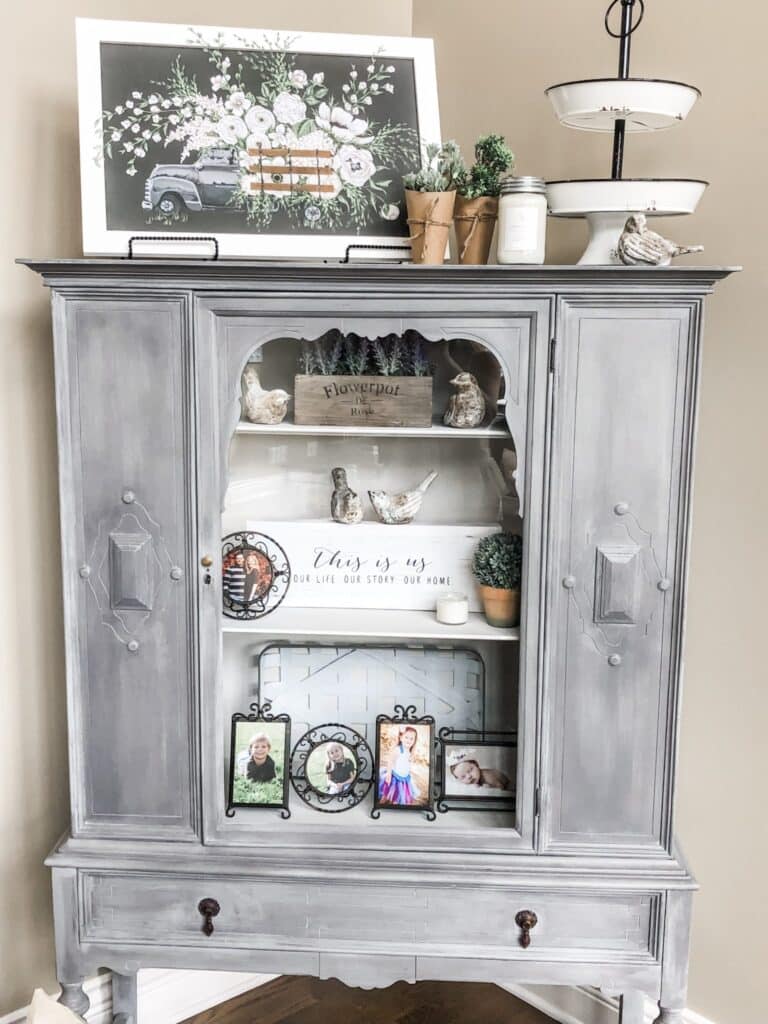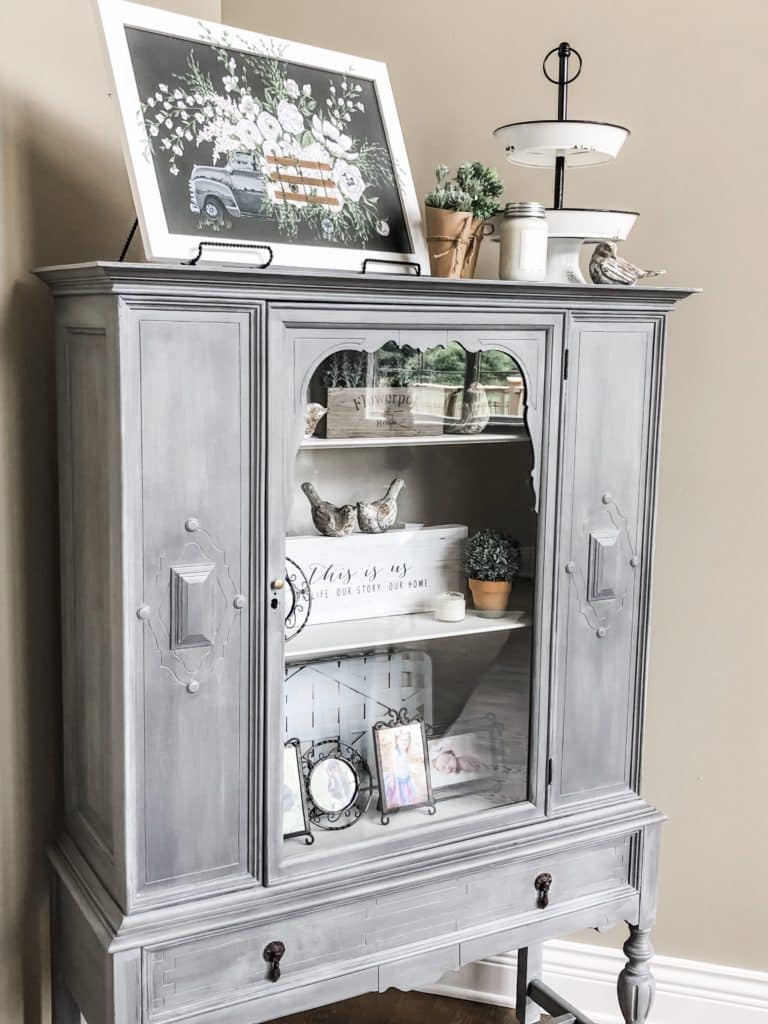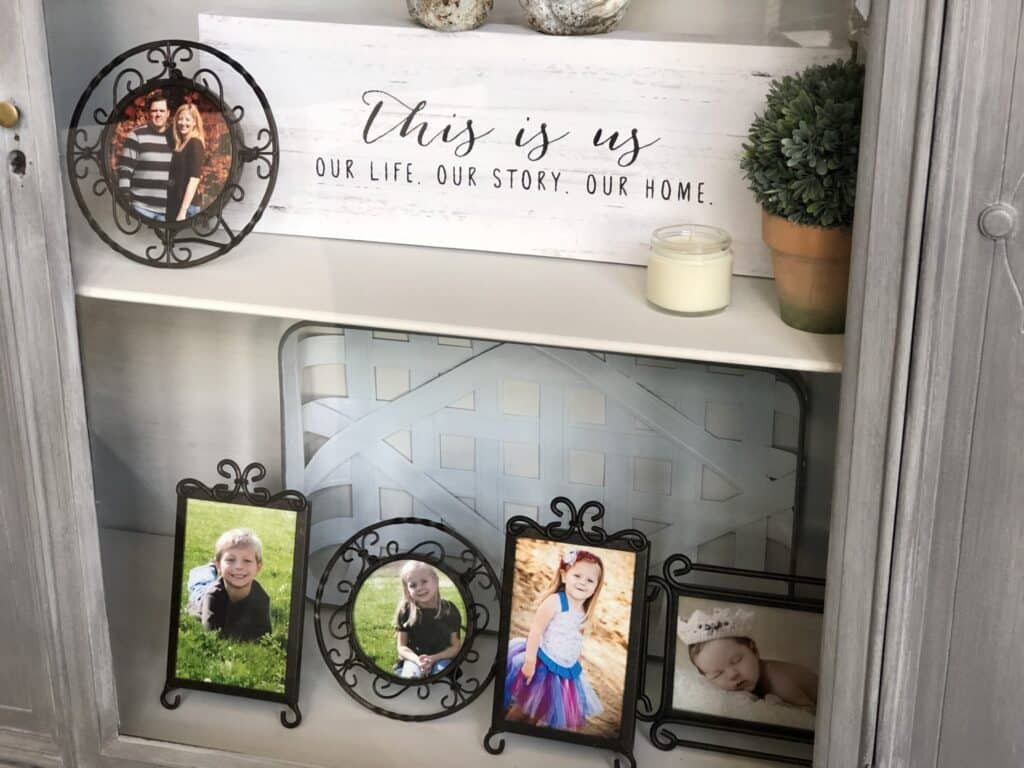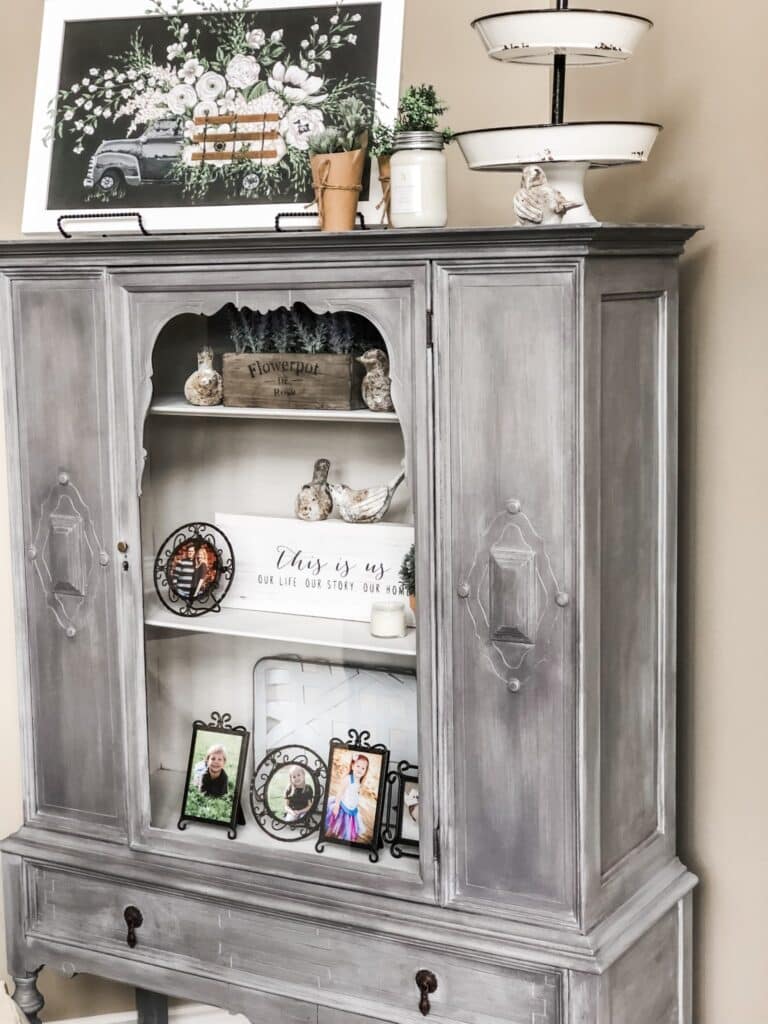 If you are interested in trying Dixie Belle Paint… please message me! I can help give you color suggestions (there are over 64 colors) and finish recommendations based on your desired look. Seriously, contact me! I love repping this great USA made brand of chalk paint, and would love to help you get acquinted with Dixie Belle… I use this chalk paint line on all of my painting pieces!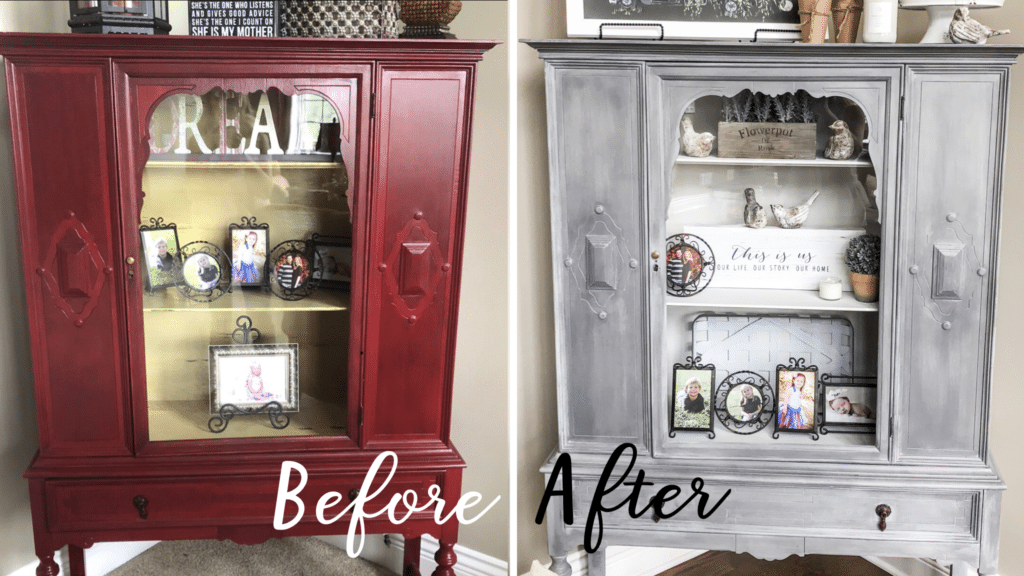 For your easy shopping, here are the Dixie Belle products I used on this piece…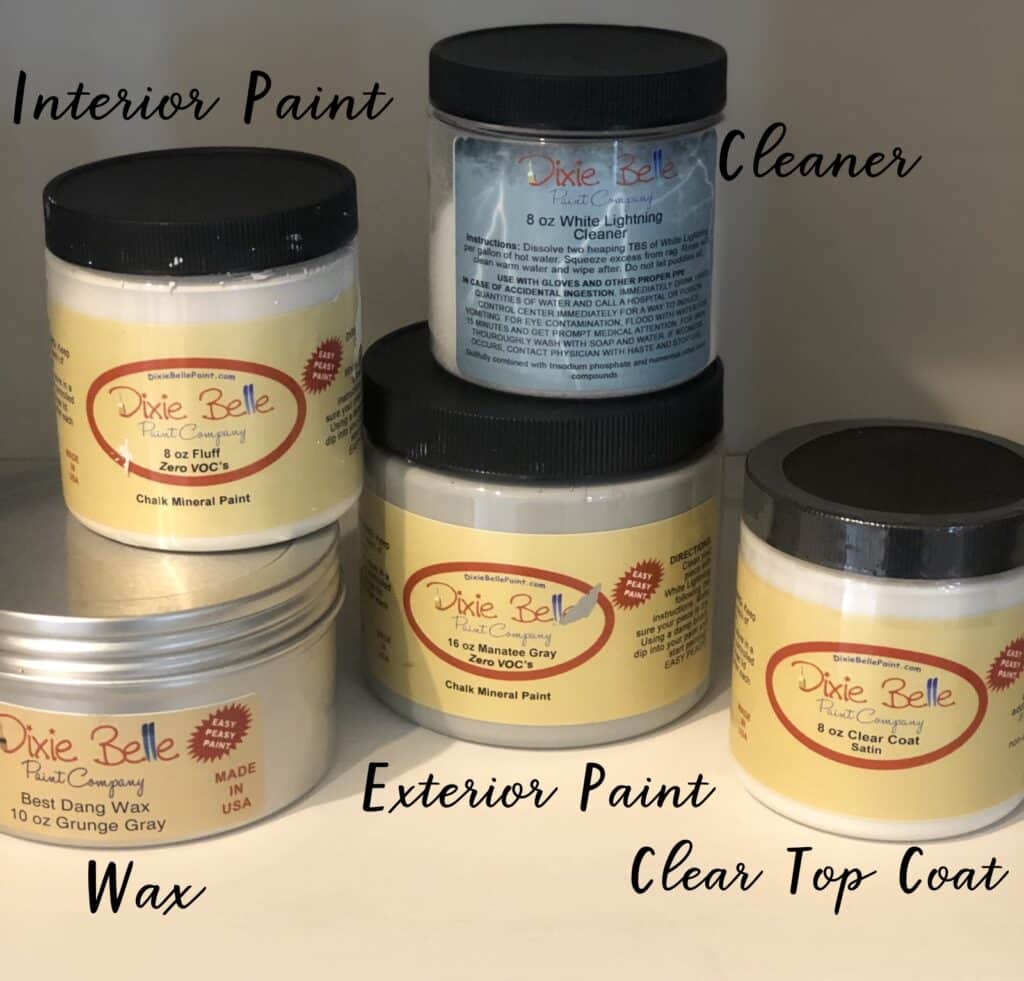 Manatee Gray Paint | Fluff Paint | White Lightening Cleaner | Best Dang Wax, Grunge Gray | Satin Clear Coat | Belle Brush | Chip Brush
& here are some of the decor accent pieces I decorated the cabinet with…
Two- Tier White Stand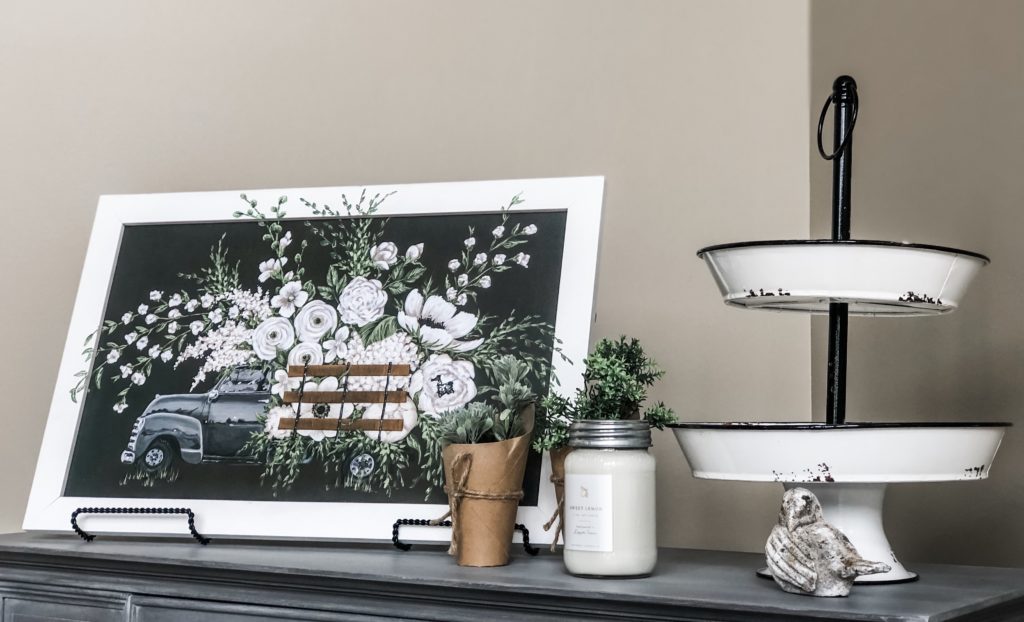 Resin Birds | Boxwood Potted Plant | White Tobacco Basket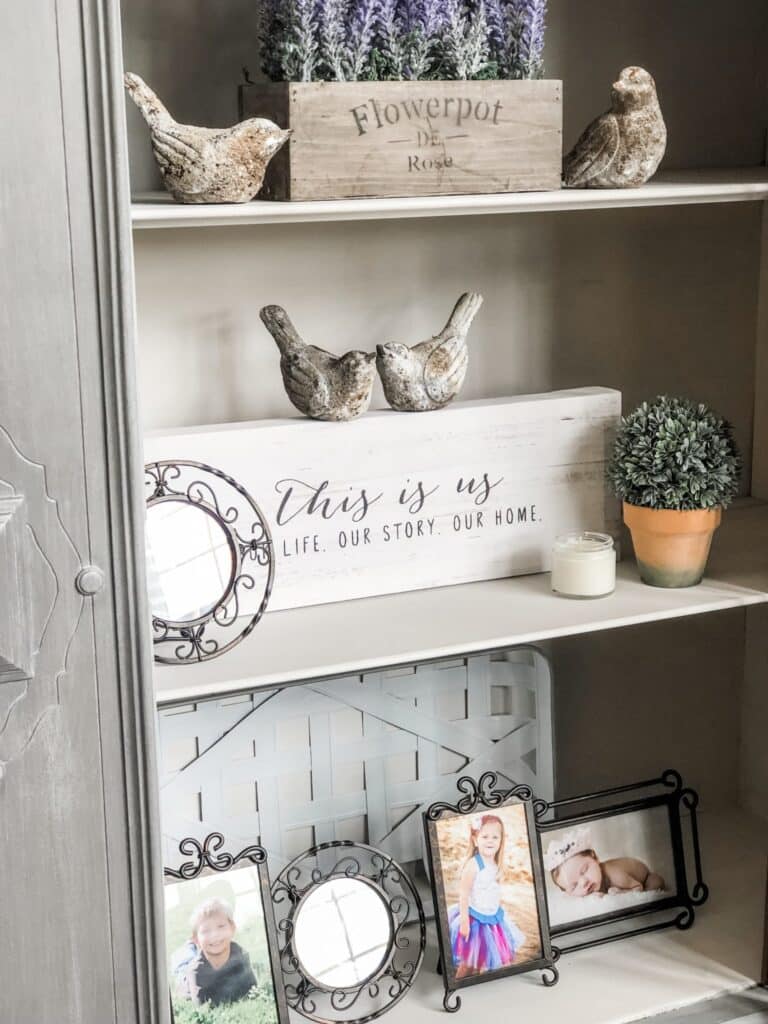 Paper Wrapped Plants | Sweet Lemon Candle
Lavendar Flower Box | Resin Birds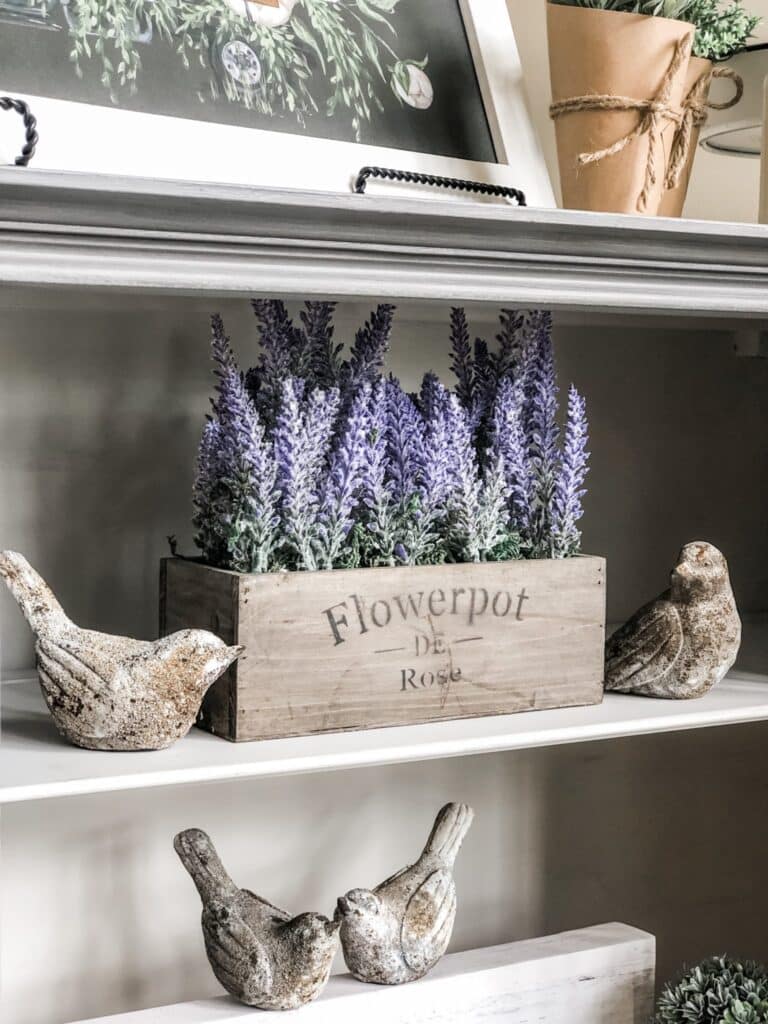 Family Pillow | Tin Flower Bin (similar)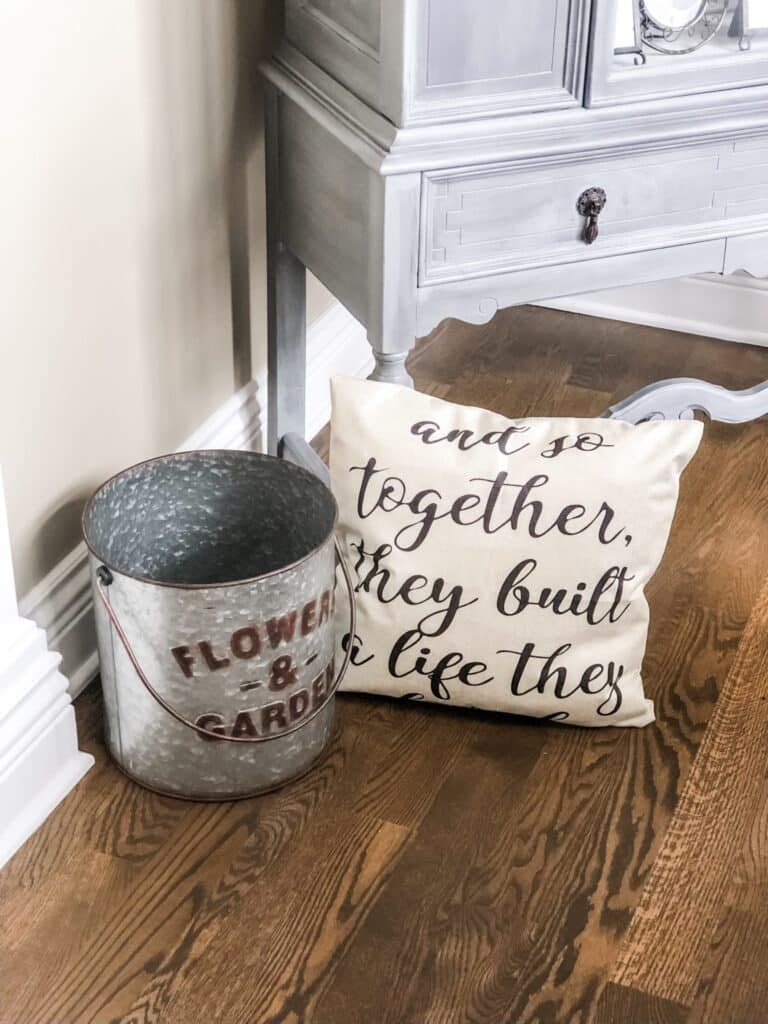 I hope you enjoyed my blog today of this redo treasured piece of furniture in my home.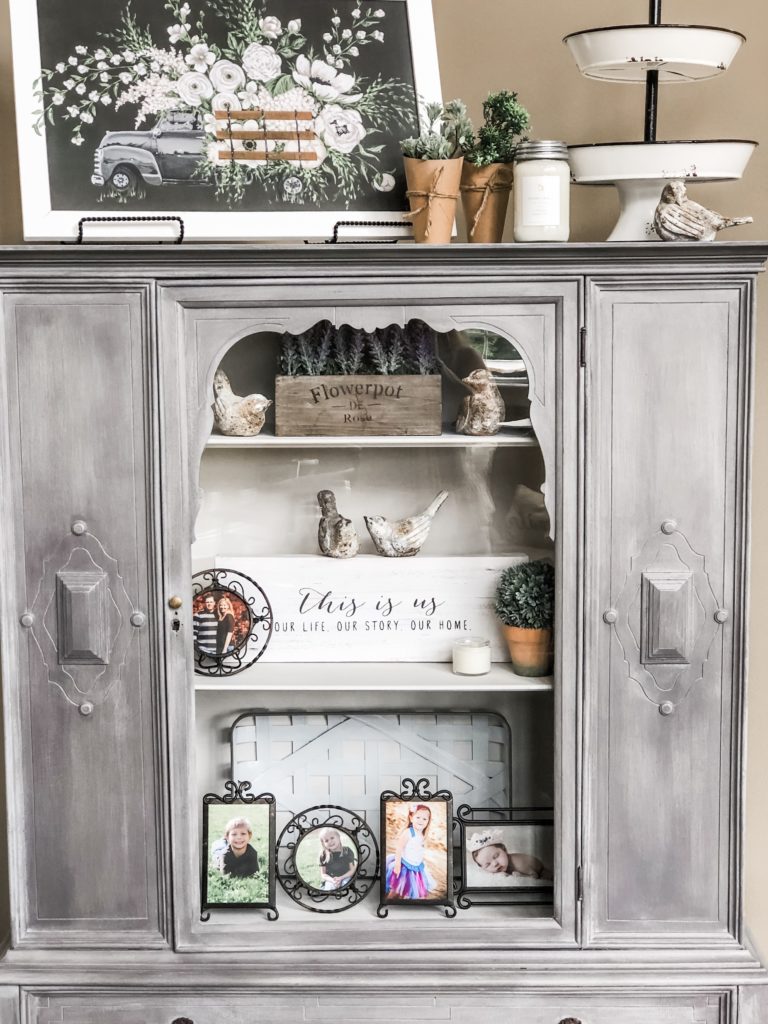 I hope you have a beautiful weekend friends…more from my blog, home, travels, boutiquing, & painting… to come!