It is finally that time of year when Mother Nature is telling us it is time to get outside and get planting! I love this season as Spring showers wash the last of winter away and prepares our lives for a clean slate of new growth and opportunity. Farmers in our area have already taken advantage of nicer weather to begin to get into the fields to prepare their soils, and folks everywhere are thinking it is time to prepare their gardens and flower beds for another beautiful Spring and Summer. At Heirloom Grove we are patiently waiting to see how our first year of tulips fair, and are a preparing all of our planting plans for the year… which will include replenishing our orchard and berries, adding in lavender and grape vines, and again planting acres upon acres of gorgeous, happy sunflowers. This year we are also trying our hand at some specialty flower and herb gardening in raised beds that I am so excited for… so much to come! Make sure you are staying in touch on our IG for more behind-scenes, day-in-the-life stories of all that happens on our specialty farm.
Today, i thought it would be helpful to share some great gardening tools and supplies that I use, to help you prepare for your garden season too! All of these are my go-to's (plus so many others) but a great place to start, if you are just starting out, or need to replenish some old supplies with new tools! Check out all the links below to shop…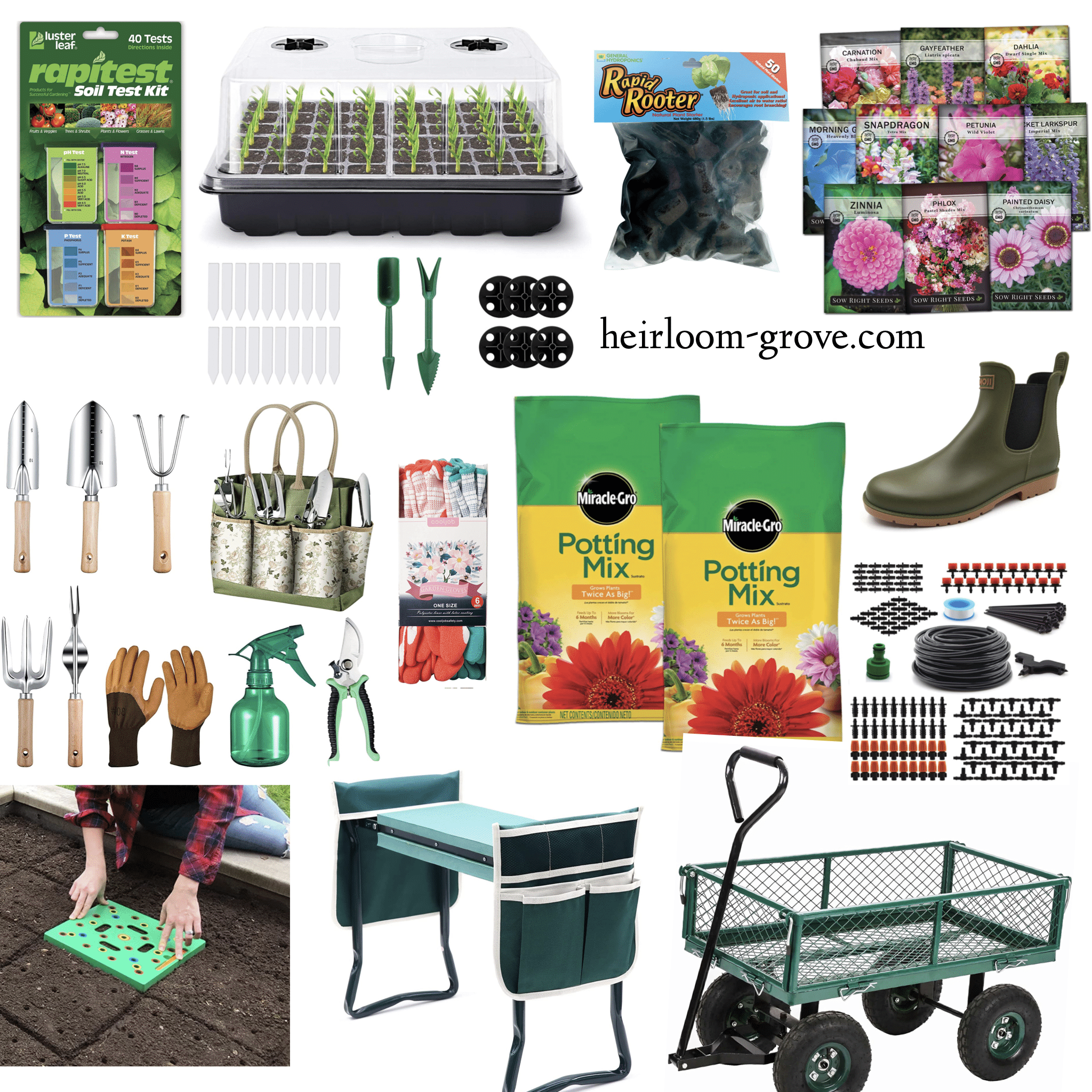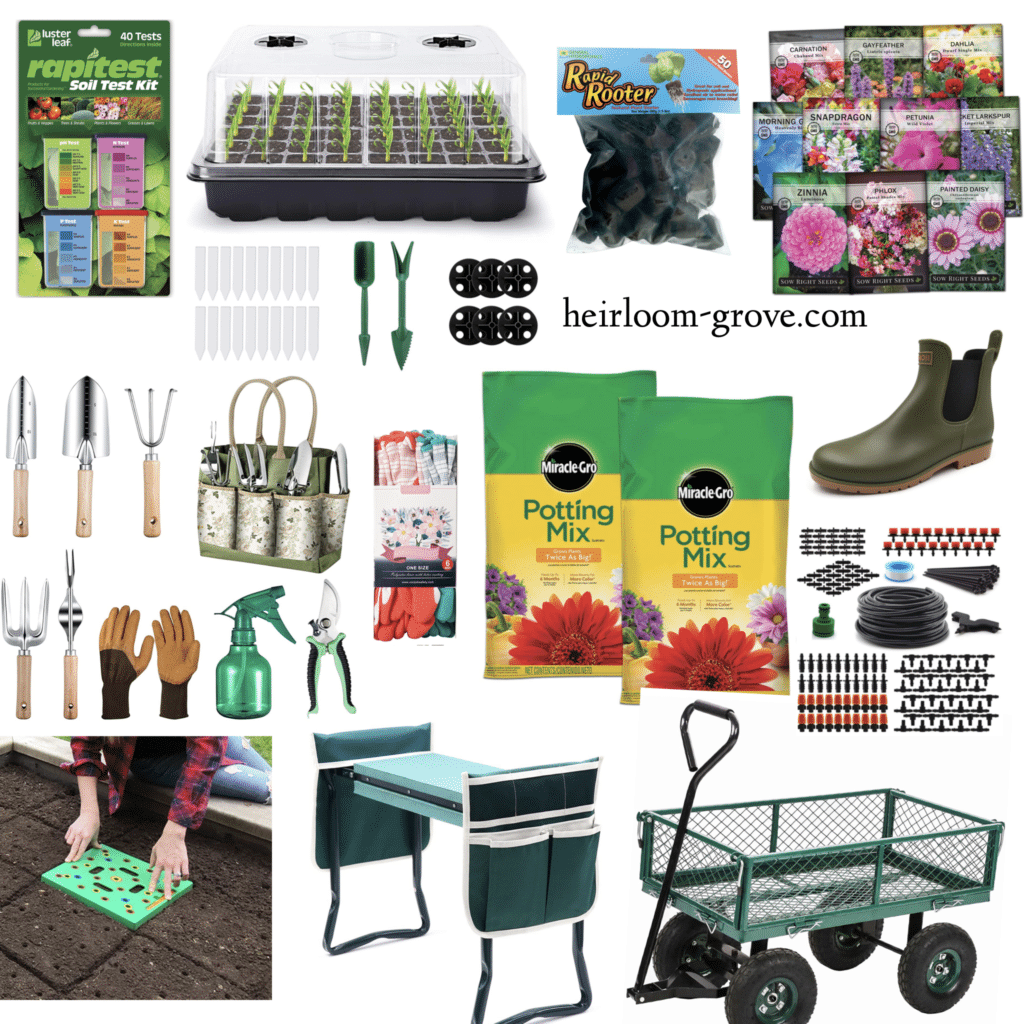 Rapid Test Soil Kit – these are wonderful for testing your soil, so you can determine what kind of remediation you may need for your soil before you get to planting certain plants in your garden area.
Seedling Starter Kits – these kits come with all the things you need to start your own seedlings …veggies and flowers alike. If you have a greenhouse.. bonus! Stack these on a shelving cart and get to growing your own starts… a fraction of what it costs buying starts from a local greenhouse.
Plant Starters – these are the niftiest starter pods – place in your seed tray, and drop a seed and they are ready to get growing!
Seeds – sooo many to choose from – and you can get from about anywhere… here are some from Amazon but I also like to support our local growers.
Garden Tool Kit – these little kits come with every tool you need to get started gardening, and all organized in a handy pocketed, easy-to-carry tote.
Garden Gloves – get multiple pairs… if you are like me, you will lose one or two… or many… and it's great to have extra sets for the helping hands that like to join you in the garden too.
Potting Mix – Get a good potting mix to give your plants a great start!… local stores have these in the plenty!
Garden Boots – I love ankle garden boots – easy on, easy off and not as hot as calf or knee length garden boots are… and they clean up easy peasy!
Water System – watering can be as basic as a hose and good nozzle, or as elaborate as watering systems… they are worth the money though especially when you are running on a busy schedule during the heat of summer.
Seed Space Squares – this is the niftiest tool I found this year.. giving a template for various spacing so plants are quickly and evenly spaced.
Gardening Seat/ Stool – your back will thank you! Light and easy to move.. you can sit or neal on this bench as you plant and tend your plants for the year.
Garden Cart – a must!… I use a garden cart, wheel barrow, and my Ranger for transporting plants, soil, tools, weeds… you name it – these carts are a God send!
OH.. I could go on and on sharing products and supplies with you to help you as you get started gardening for the year.. and would love to hear what your favorite gardening tools and supplies are too (comment on this post if you'd like to share!) I hope this gets you excited to get organized and prepared so once the weather is all clear, we can all run to our gardens and get busy!
Happy planting, friends!